May 30, 2023
Android (v6.1.0) and iOS (v8.1.0) mobile app update

Adds German, Spanish, French, Italian and Dutch language support to the app. Language selection will be based on the devices primary language with a fallback to English.
Adds clearer instructions to the streaming screen.

Improvements

Allow users with the Administrator role to set the default exam taker UX on the institute settings page.

Bug fixes

Custom translations don't work on environments that use s3_use_accelerate_endpoint

Early page reloads continuously if interval to exam start time is greater than 25 days
May 15, 2023
New exam taker UX is now available on shared environments

Improvements

Make second camera placement step more explicit. Candidate needs to confirm correct phone placement before continuing the exam setup.
Translations for all supported languages are complete on web

Bug fixes

stop_sharing_ events are not created when ending exam or reloading/closing tab

exit_exam_room event does not appear on events page

Uploading attachment during exam it gives 413 error if the file is too big

No check_requirements_start event when starting again

Fix popup button translations

Student can dismiss the popup when exam is ended via API (or proctor page)

The user is blocked after switching the Wi-Fi off at the Step "Start Recording" and clicking the "Start Recording" button
May 1, 2023
Improvements

Early page will automatically redirect to the Exam session once the exam start time is reached.

Content management (customisation) UI added to Institute settings

Bug fixes

Help guide microphone, speaker and camera links are not working.

Google Chrome notifications not being seen by test takers.
Apr 24, 2023
Improvements

Make proctor chat available during exam setup stage for Live Proctored exams

Move candidate support icon to sidebar in system check / exam setup stage

Show PE or Institute logo on System check / Exam Setup

Bug fixes

Late page can be circumvented and exam started due to pop-up when page is reloaded, no "late" event is created.

Proctor Chat extends below task bar

LTI placeholder in "Instructions for students" shows as "Exam screen"

QR Code not displaying if app is killed/disconnected from WiFi

Not all "allowed materials" shown in Exam instruction when list is very large
Mar 27, 2023
Update web translations

Note that the non english locale options are currently a preview and some copy may be missing translations. Therefore exam organisers should only arrange real exams in English. Translations for web and mobile will be finalised in April.

Bug fixes

Missing screen elements during allow Microphone and Camera step
Mar 13, 2023
Improve phone camera positioning step

In the exam setup; end of step 8 (room scan), a phone camera placement tutorial video is shown on the left with the live stream of the mobile phone camera on the right.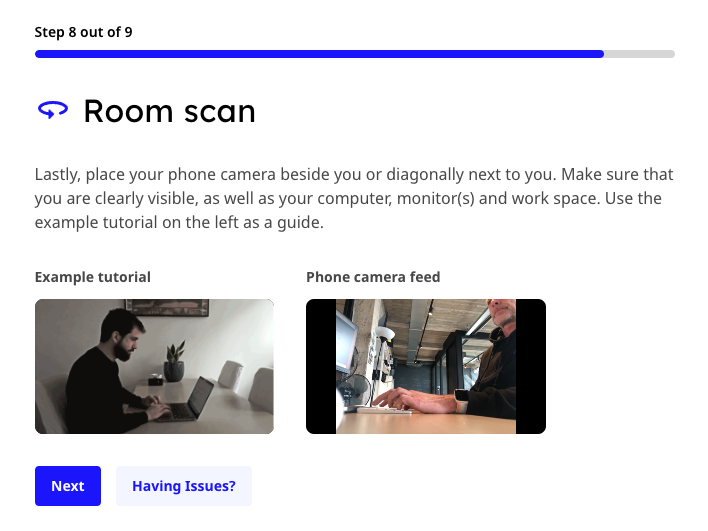 Improve candidate file upload

Show warning when ending exam without uploading required files

Show reminder that downloaded files must be removed before finishing the exam

Bug fixes

Prevent caching of web component files
Mar 2, 2023
Bug fixes

Fix missing ProctorExam logo

Face photo upload fails when url path includes "//"

Invalid date on early page
Feb 28, 2023
Chrome screensharing dialog should default to "Entire screen" tab
Feb 20, 2023
Bug fixes

Exam email resent every time the candidate repeats the system check

New exam taker experience sometimes renders old experience

Show Leave confirmation dialog when closing Chrome tab or browser window during ongoing exam session

Show white label logo when uploaded