Accessing the reporting engine
This report engine is accessible via the main screen when hovering over the cogwheel.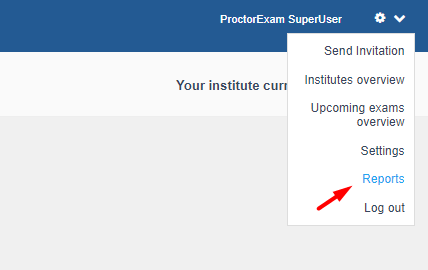 Only Superusers and administrators can access it.

Selecting the right type of report
The first option you have is to select exam registrations or only finished sessions.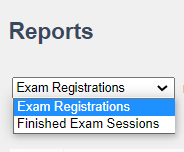 You will need to fill in the period in which this exam took place:
Please note that in the period selected for the report the start date is included in the search, however the selected end date is not included, as the period of the report is considered until the end date selected. For example, the search below will only give results from the first of January until the 20th of January.

And then, you will need to select the institute and exam of choice if known:


Please note that the report can take a few minutes to be generated depending on its size.
Downloading the report
In the subsequent list, you can download the report in the desired format, CSV or PDF:

You can identify the correct report by date.

Deleting the report
In every row, you will find a "Delete" button at the end of the row. You delete the corresponding report.
Keep in mind that the exam reports generated are deleted weekly: the goal is to prevent having a platform overload so that you can download reports at all times.