Some candidates have the preference to use a third-party camera instead of the internal one equipping most computer devices. Unfortunately, these external cameras might sometimes be overlooked by some applications that instead will use the internal camera.
With this article, we want to share some options to troubleshoot issues and configure Windows to use a specific camera for all the applications.
Option 1: By disabling the other webcam
The most used workaround to select a default camera would be to disable the other camera internally. In order to disable the other camera:
Select the

"Windows" + "X" keys simultaneously and choose "Device

Manager" from the list
Double-click

on the "Cameras" dropdown.
Right-click on the name of the internal webcam and select "Disable".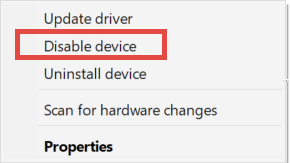 Note: It usually has the device manufacturer's name.
Test with a relevant application and

verify if the issue still occurs.
Option 2: Select the drivers as default
The second most common method to address this problem would be selecting the device you wish to use as default. In order to do that:
Select

"Windows" + "S"

keys simultaneously or open the search bar on Windows manually and type in

"Control Panel".
Select the first option and click on the "View

Devices

and Printers" under the "Hardware and Sound" option.
Check

to see if the webcam is listed there.
If it is, right-click on the webcam and select "Set this device as Default".
Test

to see if the issue still occurs.